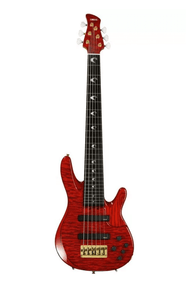 Yamaha John Patitucci - Trans Dark Red
$2,89999

$2,899.99

Save $2,200.01
---
---
The Yamaha TRBJP2 6-string solidbody electric bass guitar was created by a meeting of the minds with one of the most respected bass players of our time, John Patitucci. A decades long career, playing in some of the most coveted bass gigs on earth, Mr. Patitucci knows what he, and you would want in a bass. So Yamaha let John specify everything he needed on the TRBJP2. From body construction, to pickup design, and the EQ frequencies of the active preamp.
Starting with Yamaha's TRB basses as a jumping off point, John really took it from there in specifying exactly what he needs out of a working 6-string electric bass guitar. The body is made from a laminate of two of the most common woods in vintage designs; ash and alder. It's sandwiched by gorgeous figured maple to give the bass a clear tone. John also had the beautifully adorned ebony fretboard extended to 26 frets, giving you added range when playing solo compositions. And he chose a bolt-on design to give your sound a warmer low end.
Though 6-string basses are often only used for certain genres, John worked with the engineers at Yamaha to custom voice the active preamp to offer you the greatest control over the most useful frequencies for any bass application. He also had his hands on the design of the custom alnico V humbucking pickups that are exclusive to this bass. Though the TRBJP2 definitely excels at Jazz and R&B, careful attention was paid to the electronics to ensure you'll be able use this bass for just about any gig you're called for.
John Patitucci is one very busy bass player. With a resume that includes everything from Chick Corea to B.B. King, Bon Jovi to Dizzy Gillespie, there is no question that his main bass guitar needs to be able to cover a whole lot of ground. And seeing that he's had one main Yamaha bass for years and years, it's pretty safe to say that the TRBJP2 can easily handle any kind of performance you may be called for. If you're playing straight-ahead BeBop or Death Metal, give the Yamaha TRBJP2 an audition and you might be surprised just how great it works.
Yamaha TRBJP2 6-string Electric Bass Features:
6-string electric bass guitar designed with bass legend, John Patitucci
Custom appointments specified by Mr. Patitucci himself
Electronics packaged voiced for any musical situation
26-fret ebony fretboard for more voicing options
Custom alnico V humbucking pickups
A massive solid brass bridge delivers a clear and rich sound
4-play laminated body offer vintage and modern tones