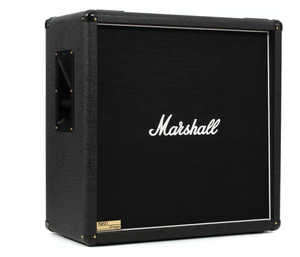 Marshall 1960BV 280-watt 4x12" Straight Extension Cabinet
$1,39999

$1,399.99

Save $550.01
---
---
The 1960BV is the straight version that features four Marshall G-12 Vintage speakers and is the perfect addition to your stage or recording rig! It's ideal for players who appreciate a lot of low end without all the unwanted distortion.
To ensure the ultimate in flexibility, the 1960B (straight) is switchable between mono (4 or 16 ohms) and stereo (8 ohms per side). The two mono impedance options provide extra amp matching capability while the cabinet's stereo capability makes it ideal for rack systems which typically run in stereo.
This has a thicker, warmer sound than the 1960A with a fat, well-defined midrange and a rounded high end that sparkles nicely while not being overly bright. It also has a good low end chunk.
B (Base) cabinets offer some sonic differences. A straight cab sounds more focused and has more low-end thump. The additional size gives the cabinet a lower resonant frequency for more low-end. Having all speakers facing the same direction gives a more focused sound. Many players prefer to use only the B cabs, even when they are onstage with a full stack. Zakk Wylde (Ozzy's guitarist) uses only the B cabs because of the tighter low end and because (believe it or not) he values his hearing and the sound from the B cab doesn't hit him directly in the head.
Marshall is the only choice for serious musicians. Nothing compares to Marshall cabinets in terms of awesome tone and projection. Both visually and aurally, Marshall 4 x 12" cabs are indeed rock 'n' roll history in a stack!
Roadworthiness is a vital prerequisite in the world of relentless touring. As Marshall's 40 years of cabinet building attest, Marshall cabinets are definitely built to stand the test of time! Their highly skilled craftsmen construct these 4 x 12"s from the finest materials available - 15mm birch plywood with precision comb joints, cotton-backed PVC covering, heavy-duty hardware, and the highest quality fittings. Weighing in at around 80 lbs., the JCM1960BV is made of 15mm birch plywood (except for the back panel, which is medium density fiberboard) and built for tone, projection, and durability. The majority of cabinet construction is done by hand.
Marshall 1960BV Features:
300-watt 4 x 12" straight cabinet
4-/16-ohm mono and 8-ohm stereo
Extra-warm-sounding Marshall G-12 Vintage speakers - rated at 70 watts each
Black grille cloth and white piping
Large white logo
Black elephant grain vinyl
Tech Specs
Configuration: 

4 x 12"

Speakers: 

4 x 12" Marshall G-12 Vintage

Power Handling: 

280W

Impedance: 

4 ohms/16 ohms (Mono), 8 ohms (Stereo)

Mono/Stereo: 

Mono, Stereo

Cabinet Type: 

Straight

Open/Closed Back: 

Closed

Inputs: 

2 x 1/4"

Construction Material: 

Birch

Height: 

32.68"

Width: 

29.92"

Depth: 

14.17"

Weight: 

90.6 lbs.