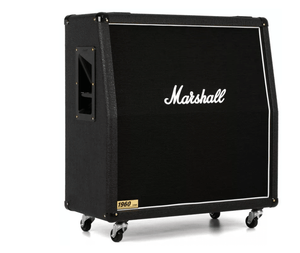 Marshall 1960A 300-watt 4x12" Angled Extension Cabinet
$1,09999

$1,099.99

Save $400.01
---
---
Nothing personifies the image of rock 'n' roll more completely than a wall of Marshall stacks. Though often imitated, nothing compares to the original. The 1960A is the angled version that features four G12T-75 speakers and is the perfect addition to your stage or recording rig! It's ideal for players who appreciate clarity and quality.
To ensure the ultimate in flexibility, the 1960A is switchable between mono (4 or 16 ohms) and stereo (8 ohms per side). The two mono impedance options provide extra amp matching capability while the cabinet's stereo capability makes it ideal for rack systems which typically run in stereo.
The 1960A produces a loud, well-focused, and uncluttered sound with a tight, full low end and a crisp, clear top. It projects well across the guitar's entire tonal range and its clarity makes it ideal for players who like using a fair amount of effects such as reverb, chorus, or delay as it doesn't mask or muddy-up such FX. Its all-around versatility and relatively uncolored nature makes this one of Marshall's best-selling cabs. It represents the sound of the guitar and head most accurately.
The Marshall 1960 cabinets are the best selling amp cabinets in the world. They are standard on stages everywhere for their sound and rugged construction. While not complicated electronically, the effects of their materials, construction, and speakers make the 1960s the choice of players everywhere and have made them the industry standard to this day.
1960A (angled) cabinets came about because Jim Marshall felt a head on a straight front cab just didn't look designed. The sides and baffle of the cabinet feature an angled cut. This has both a cosmetic impact and a sonic one, because the top two 12" speakers angle slightly upwards. It has more sonic or dispersion and is a little brighter-sounding than a straight cabinet.
Marshall is the only choice for serious musicians. Nothing compares to Marshall cabinets in terms of awesome tone and projection. Both visually and aurally, Marshall 4 x 12" cabs are indeed rock 'n' roll history in a stack.
Roadworthiness is a vital prerequisite in the world of relentless touring. Luckily, as Marshall's 40 years of cabinet building attest, Marshall cabinets are definitely built to stand the test of time! Their highly skilled craftsmen construct these 4 x 12"'s from the finest materials available - 15mm birch plywood with precision comb joints, cotton-backed PVC covering, heavy-duty hardware, and the highest quality fittings. Weighing in at around 80 lbs., the JCM1960A is made of 15mm birch plywood (except for the back panel, which is medium density fiberboard) and built for tone, projection, and durability. The majority of cabinet construction is done by hand.
Marshall 1960A Features:
300-watt, 4 x 12" angled cabinet
4/16-ohm mono or 8-ohm stereo
4 x 75-watt G12T-75 speakers
Black grille cloth and white piping
Large white logo
Black elephant grain vinyl
Tech Specs
Configuration: 

4 x 12"

Speakers: 

4 x 12" Celestion G12T-75

Power Handling: 

300W

Impedance: 

16 ohms/4 ohms (Mono), 8 ohms (Stereo)

Mono/Stereo: 

Mono, Stereo

Cabinet Type: 

Angled

Open/Closed Back: 

Closed

Inputs: 

2 x 1/4"

Construction Material: 

Birch

Height: 

32.68"

Width: 

29.92"

Depth: 

14.17"

Weight: 

80.25 lbs.