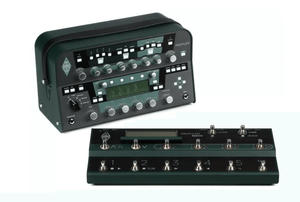 Kemper Profiler Power Head + Profiler Remote - 600-watt Profiling Head with Remote Controller
$2,69400

$2,694.00

Save $305.99
---
---
The Kemper Profiler PowerHead packs the same awesome amp modeling and emulation of the original Kemper Profiling Amplifier plus a powerful 600-watt power amp. As with the rest of the Profiler series, the Profiler PowerHead doesn't limit you to a bunch of preset models. Instead, it lets you create your own amp profiles and call them up whenever you like. What's more, Kemper's high-tech wizardry gives you total tone-tweaking control over your profiled amps, going well beyond gain and tone. Talk about a must-have studio and live performance tool.
Right out of the box, the Kemper Profiler PowerHead has a ton of profiled amps ready to play. Just connect the Profiler PowerHead to your sound system or recording rig, and you're set. And even if you don't have a collection of amps to profile, there are hundreds of profiled amplifiers available online, and the community of Kemper profilers is growing every day.
While the incredibly lifelike profiles included with the Profiler PowerHead will appeal to everybody, you'll love the Profiler PowerHead if you have a ton of amps already. It's easy to connect the Profiler PowerHead to the amp you want to profile, hook up a microphone, capture the sound of that amp, and store it as a preset. You'll be amazed at how accurately your profiled amp preset responds to the gain and tone controls.
Ever been frustrated trying to re-create the tone you captured on a recording when you play out live? You'll love the Profiler PowerHead, because it can profile your studio sound while you're recording. Just take a split of the mic you're recording with and use the split signal to connect to the Profiler PowerHead. You'll capture the sound of your studio performance, ready to be recalled on any stage in the world at a moment's notice. What's more, this Kemper Profiler PowerHead comes loaded with a 600-watt power amp section, so you're ready to rock out live with the same great tones.
If you have a Kemper Profiler PowerHead, then you'll find the Profiler Remote foot controller system to be indispensable. The Profiler Remote doesn't just match the aesthetic of the Profiler PowerHead, it also offers tight integration with its functions. Four buttons let you directly access five program patches, and an additional four expression pedal inputs let you control continuous parameters such as gain, volume, wah-wah effects, and delay sends. There's also a tuner and a looper function onboard, and the Profiler Remote connects to the amp via standard Ethernet cable for added convenience.
Kemper Profiler PowerHead Features:
Lunchbox-style guitar amplifier can create profiles of any physical guitar amplifier
Onboard 600-watt power amplifier makes this an awesome live amp, as well
Includes 200 amplifier profiles for you to start with
Easy to profile your own amplifiers - all you need is a microphone and cable, guitar cables, and a combo amp or amp head and cabinet
Built-in DI can split your signal to a direct output for simultaneous recording of your dry guitar signal and the guitar amp profile when used in the studio
Great-sounding collection of effects in addition to the amplifiers
Automatic spillover lets your delay and reverb tails fade out naturally when you change presets
You can lock individual module settings when changing presets, keeping your current delay effects settings while changing amp profiles
Effects loop lets you integrate your hardware effects and stompboxes
Includes a dedicated foot controller
Tech Specs
Type: 

Class D Solid State

Total Power: 

600W @ 8 ohms, 300W @ 16 ohms

Reverb: 

Yes

Effects: 

Yes

EQ: 

8-band (Graphic), 4-band (Parametric)

Amp Modeling: 

Store Custom Amp Profiles

Number of Models: 

200 Factory Presets

Inputs: 

1 x 1/4" (instrument), 1 x Coax (S/PDIF), 1 x 1/4" (Alt in), 1 x 1/4" (return), 1 x XLR (return)

Outputs: 

2 x 1/4" (main), 2 x XLR (main), 1 x 1/4" (monitor), 1 x 1/4" (DI/send), 1 x Coax (S/PDIF)

Headphones: 

1 x 1/4"

Effects Loop: 

Yes

MIDI I/O: 

In/Out/Thru

Other I/O: 

1 x RJ45

USB: 

1 x Type A, 1 x Type B

Footswitch I/O: 

2 x 1/4"

Footswitch Included: 

Yes, Remote Controller Floorboard

Computer Connectivity: 

USB, Ethernet

Software: 

Rig Manager, Rig Exchange

Power Supply: 

Standard IEC AC cable

Height: 

8.54"

Width: 

14.88"

Depth: 

6.81"

Weight: 

13.2 lbs.