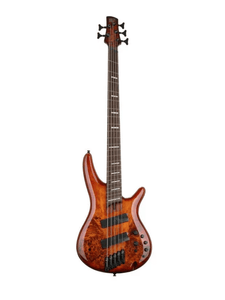 Ibanez Bass Workshop SRMS805 - Brown Topaz Burst
The Ibanez 5-string Bass Workshop SRMS805 is built from an exciting blend of tonewoods. A poplar-burl-topped walnut/mahogany body delivers a warm, earthy tone with a round bottom and bright top end. A 5-piece jatoba/walnut neck makes a fine tonal complement, while supplying excellent comfort and stability. The SRMS805's multi-scale fingerboard offers optimal tension and playability. Experience superior intonation and vibration transference, thanks to a Mono-Rail VS bridge. A duo of Bartolini BH2 dual-coil pickups yields incredible depth and clarity, a 3-band EQ allows for further sonic sculpting, and a 3-way midrange switch rounds out the SRMS805's controls. To top it all off, the Bass Workshop SRMS805 features black matte hardware for a sleek, eye-catching look.
Multi-scale frets are an exciting new trend in high-end bass guitar design. They yield a longer scale on the bass side of the instrument and a shorter scale on the treble side, offering you better intonation and more consistent tension and attack from string to string.
Bartolini BH2 pickups maintain a superb balance between the Bass Workshop SRMS805's clarity and depth. They provide complexity and warmth in the mids and low-end depth that won't wash out. Long-blade pole pieces allow these dual-coil pickups to offer hum-free single-coil-style character and consistency. When you want to sculpt your SRMS805's tone, just reach for the 3-band EQ. This active equalizer delivers wide frequency-range adjustments on each band. There's also a 3-way midrange switch that lets you define your instrument's presence. Whether you want round R&B throb or responsive thumb-technique punch, the SRMS805 delivers.
The Mono-Rail VS bridge installed on the Bass Workshop SRMS805 solves the issue of too much string cross-talk some other basses struggle with. When you play a string, sympathetic vibrations can set the other strings into motion. But by separating the bridge into five independent "mini bridges," the Mono-Rail VS maximizes vibration transfer without interference from the other strings. Ibanez goes so far as to call the Mono-Rail VS, "the ultimate bridge for bass string isolation." Each bridge is independently and securely locked down to the body for maximum vibration transfer without interference.
Ibanez Bass Workshop SRMS805 Features:
Poplar-burl-topped walnut/mahogany body delivers a warm, earthy tone with a round bottom and bright top end
5-piece jatoba/walnut neck makes a fine tonal complement and supplies excellent comfort and stability
Multi-scale fingerboard offers optimal tension and playability
Mono-Rail VS bridge ensures complete string isolation and maximum sustain per string
Bartolini BH2 dual-coil pickups deliver clear and open mids with deep and punchy lows
Shape your tone with an active 3-band EQ, complete with 3-way midrange switch for added versatility
Eye-catching black matte hardware