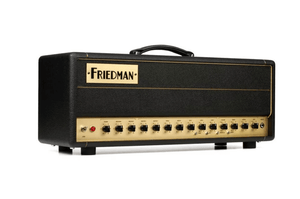 Friedman BE-50 Deluxe 3-channel 50-watt Tube Head
$3,49999

$3,499.99

Save $300
---
---
Dave Friedman claims the BE-50 Deluxe 3-channel tube amplifier is the best amp he's ever made. By combining the clean channel of his acclaimed Buxom Betty amplifier with a pair of BE (Gain 1) & HBE (Gain 2) -style dirty channels, the BE-50 Deluxe covers a truly expansive sonic range. A 3-way Gain Structure switch, plus switches for Sat (saturation), Voice (3-way), and Fat on the two dirty channels allow you to dial in your ideal flavor of overdrive and distortion. And a Bright switch on the Clean channel allows you add further spank to it. In addition, master controls for Thump, Response, and Presence offer fine-tune control over the amp's playing feel in a way that few amplifiers provide. Complete with Dave's critically acclaimed, totally transparent, Series FX Loop (with a Return Level control) and half-power switch (pentode/triode), the Friedman BE-50 Deluxe is an incredibly tonally versatile 50-watt tube amplifier that is perfect for a plethora of styles including all forms of rock and metal.
In addition to its glorious Clean channel, the BE-50 Deluxe boasts two dirty channels — one with the much-desired BE gain structure and the other with the added drive that is HBE. While the BE and HBE channels share the same 3-band EQ section, they each have independent controls for Gain and Master. As a result, the range of overdriven tonal possibilities the BE-50 Deluxe has to offer is truly formidable. A 3-way Voice switch and 3-way Gain Structure switch further add to the amp's already vast array of sonic offerings. And if that weren't enough, a Fat switch is present to beef up the low end (perfect for single-coil pickups), while the Sat switch on the rear panel adds even more gain, compression, and saturation.
You can halve the BE-50 Deluxe's output from 50-watts to 25-watts with the High/Low Power switch on its back panel. This is done by switching the pair of the EL34s Power Tubes from Pentode (Full) to Triode (Low) operation. In addition to changing both output and headroom, Pentode and Triode modes each have their own unique tonal characteristics. EL34s in Pentode are musically aggressive and more "in your face," while Triode mode is smoother and warmer.
Friedman BE-50 Deluxe Tube Amplifier Head Features:
3-channel 50-watt tube amplifier head for electric guitar
Clean channel based on Buxom Betty amplifier
Dirty channel based on BE and HBE drive channels, with independent gain and master volume controls
Fat switch beefs up single-coil pickups
Bright switch adds sparkle and clarity
3-way voicing switch tailors top-end response to your taste
3-way gain structure switch controls the overall gain amount
Thump knob controls low-frequency resonance
Response knob varies negative feedback to adjust playing feel
Presence knob shapes high-frequency response
Built-in effects loop
Full/Half Power switch selects pentode/triode operation
Includes 2-button footswitch
Tech Specs
Type: 

Tube

Number of Channels: 

3

Total Power: 

50W (half power triode switch)

Preamp Tubes: 

4 x 12AX7

Power Tubes: 

2 x EL34

EQ: 

3-band EQ, Thump, Presence

Inputs: 

1 x 1/4"

Outputs: 

2 x 1/4" (speaker out)

Effects Loop: 

Yes

Footswitch I/O: 

1 x 1/4" (clean, boost)

Footswitch Included: 

Yes, 2-button footswitch

Power Supply: 

Standard IEC AC cable

Height: 

10.5"

Width: 

26.5"

Depth: 

8.5"