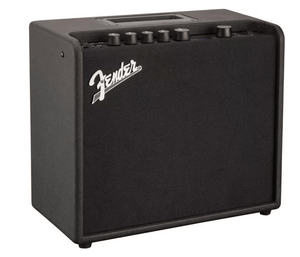 Fender Mustang LT 25 - 25-watt 1x8" Combo
With nearly 10 years of Mustang modeling know-how under its belt, Fender returns with a capably compact 8" combo packing serious practice and performance potential: the Mustang LT25. Think of this tiny 25-watter as a "greatest hits" of the Mustang amp family, pre-loaded with 30 hand-selected presets spanning decades and continents of beloved amp tone. For practice, busking, or gigging, the LT25's features belie its subway size. Its 8" Celestion speaker roars to life from within its wraparound wood cabinet. So whether you're miking up or cranking up, the compact Mustang LT25 is armed to please. A headphone out and aux in permit silent practice and convenient solo gigging. A USB connection assists in preset management and patch loading.
With more players on its roster than just about any other platform, the Mustang amp series' artist-designed presets are second to none. Whether you prefer to import presets or build your own, you'll find managing them a breeze thanks to the Mustang LT25's convenient USB port.
Fender Mustang LT25 1 x 8" 25-watt Combo Amplifier Features:
Incorporates years of Mustang modeling amp know-how
30 greatest-hits patches covering decades and continents of beloved amp tone
Includes 20 amp models, 25 effects, and 50 presets (30 pre-loaded; 20 easily accessible)
Built for practice and performance
Convenient subway size
Powerful 8" Celestion speaker
5/8" wraparound wood cabinet
1.8" color display
1/8" headphone output permits silent practice
1/8" auxiliary input for convenient solo performance
USB connectivity for painless preset management
Tech Specs
Type:

Solid State with Digital Modeling

Number of Channels:

1

Total Power:

25W

Speaker Size:

1 x 8" Celestion

Effects:

Yes

Amp Modeling:

Yes

Number of Models:

30

EQ:

Bass, Treble

Inputs:

1 x 1/4", 1 x 1/8" (aux)

USB:

1 x Micro-B

Headphones:

1 x 1/8"

Footswitch I/O:

1 x 1/4"

Footswitch Included:

No

Construction Material:

5/8" plywood cab with black textured vinyl covering

Power Source:

Standard IEC AC cable

Height:

14.5"

Width:

16.8"

Depth:

11.9"

Weight:

14.9 lbs.